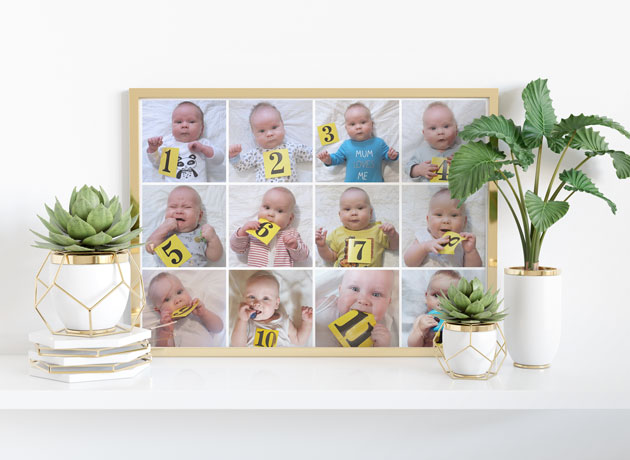 Baby photo collage
Looking for a creative way to show off the best pictures of your little one?
Make a beautiful photo collage and let your child be the star of the show!
You know how it is as a new parent: you've got a phone full of baby photos. But how can you get the most out of them? Our advice is to make them truly unforgettable and turn them into a photo collage! A great way to really capture your child's progress is to create a photo collage exclusively for your little one's first year.
All you need to do is fill your collage with different pictures from the first 12 months of your child's life and you'll be able to see just how much they've grown.
Don't have month-by-month photos of your little one? No worries! You can use any collection of photos from your baby's first year and your collage will still turn out beautiful.
How to make a photo collage with baby photos
Start by choosing the best pictures of your child. For a growth collage, try and choose 1 photo for each month of your child's life. For example, 1 photo at 1 month old, 1 photo at 2 months old, etc. If you have time for some preparation, you could make some pretty signs with the different months and get your baby to hold up a sign with their age and use these photos into your collage.
Even if you got this idea when your baby is already older you can still make it work! If you've got the skills, you can use photo editing software to add the age onto each photo. But don't worry if you're not good at that kind of stuff - we can help you do it.
Next, choose a design in the collagemaker that best suits you photos.
Then, set the number of photos you want to use. For a 1 year growth collage with monthly progress, choose our Basic grid design with 12 photos. Upload your pictures and place each one in the best slot.
Change the background colour if you like and finally click 'Save' or 'Order'.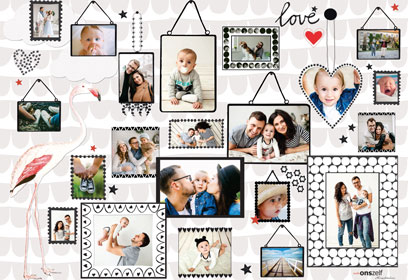 Extra tips
For the best end result choose photos that fit well together. You can do this by selecting pictures with the same background or by cropping your photos so your child is about the same size in each photo.
A handy extra for creating a growth photo collage is to use milestone cards. These cards have text on the front describing a milestone in your little one's life. Sometimes the cards have ages written on, such as "Today I am 3 months old", while others record memories, like "Last night I slept through for the first time". Use Google to search for "milestone cards" and you'll find loads of online stores with all kinds of beautiful designs. Or, if you're feeling creative, you can get to work and make your own set of unique milestone cards.
What our customers say about us
Stumbled across this site after a Google search and delighted I did. Very easy to create a collage, even for me with restricted IT capabilities. The poster came very promptly and exceeded my expectation as to how good it looked. Great service, great product. Read all reviews kiyoh.com

EasyCollage

9.9

9.9

/

10

based on

208

reviews

Lovely collage. They had very easy to use and flexible software to create the collage, the best I have found on any website. Delivery was really quick and the company were extremely helpful with getting it out quickly for me. Thank you for a beautiful keep sake xx Read all reviews kiyoh.com

EasyCollage

9.9

9.9

/

10

based on

208

reviews

Amazing! Absolutely loved it, it was even better than I had imagined! We are using it at our wedding next week and the team pulled out all the stops, to get this printed and delivered to me in super quick time! Highly recommend Easy Collage! Read all reviews kiyoh.com

EasyCollage

9.9

9.9

/

10

based on

208

reviews

I had some wonderful artistic pictures that I wanted to put together and the collage was the perfect option and EasyCollage provided great and flexable templates to make it happen. Prompt delivery of a high quality product which I am really pleased with. Read all reviews kiyoh.com

EasyCollage

9.9

9.9

/

10

based on

208

reviews

FANTASTIC PRODUCT, I have 8 of these now and have also bought and given as gifts. The quality of the photos on th canvas is really good, even in the small pictures. The best place to make your collages with the most flexibility. Read all reviews kiyoh.com

EasyCollage

9.9

9.9

/

10

based on

208

reviews