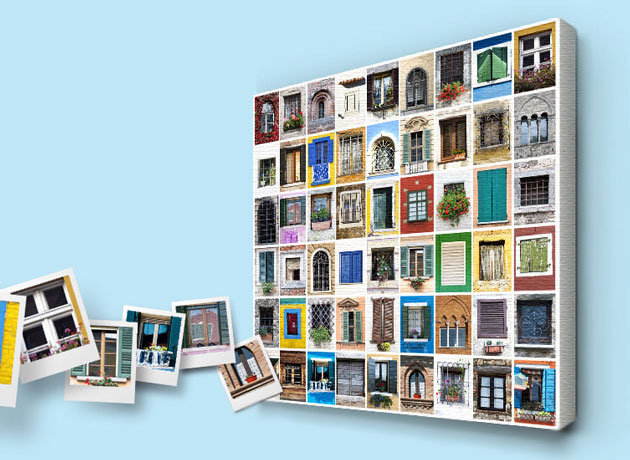 Photo collage with doors or windows
When you're on holiday, are you always taking photos of the most unique buildings you find?
Use these pictures to make an original and eye-catching photo collage full of beautiful doors and windows!
When we're on holiday the windows and doors are often much different than what we're used to seeing at home. From heavy wooden doors in Tuscan villages to bright colours in Dublin and windows framed by decorative tiles in Tunisia, the world is full of beautiful photos just waiting to be taken.
You can use these stunning pictures to create a one-of-a-kind collage, full of personal memories of the places in which the photos were taken.
How to make a photo collage with doors
To make this collage, you'll first need several photos of doors or windows. If you love gorgeous architecture, you've probably already got plenty of great photos to use. If not, there are many stunning photos of doors and windows you can find online. However you collect your photos, once you've chosen your favourites, save them into one folder. This way, you'll have a clear view of all the photos you'll use in your photo collage.
Select the best photos and crop them if necessary. You'll get the best results by making your collage from photos that work really well together. One way to do this is to make sure all the photos have a similar format. You can also use editing tools to crop the photos so all the doors look the same size in the collage. Of course you can also zoom your in and out of your photos in the collage maker.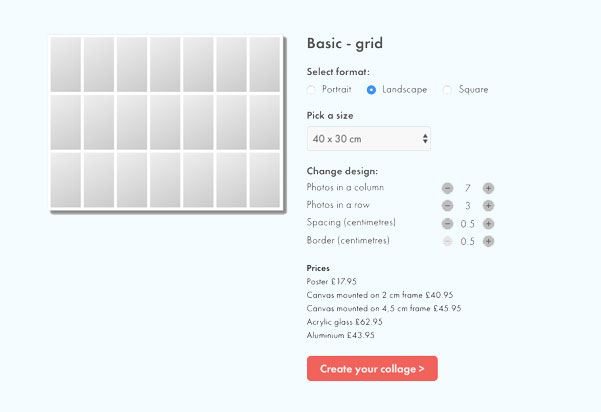 When you get the photos looking exactly how you want them, it's time to open our collage maker. Choose our basic grid if you like clean lines or mosaic lines for a slightly more playful effect. Select how many photos you want to use, based on the number of photos you've collected, then add your photos and move them around until you're happy with their positions.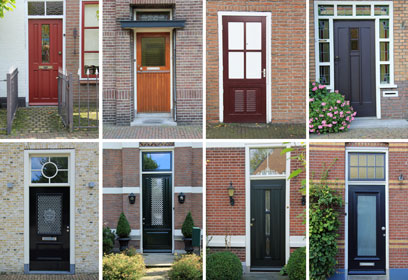 Extra tips
If you've collected all your photos but can't make them look good together, try editing them. You can crop your photos, adjust the colours and make pictures brighter or darker so that the collage works well together as a whole. Photoshop is the most popular editing programme for this type of work, but if you just want to do some simple cropping or colour changing, there are plenty of free apps and programmes you can use. Photoshop Express is a great editing app for your smartphone and Gimp is one of the best free editing software programmes for your computer.
Want to add a personal touch to your photo collage? Use pictures from places that are special to you. Think of the doors to all the houses where you once lived or pictures of you and your family posing in front of doors in various locations you've visited.
What our customers say about us
Stumbled across this site after a Google search and delighted I did. Very easy to create a collage, even for me with restricted IT capabilities. The poster came very promptly and exceeded my expectation as to how good it looked. Great service, great product. Read all reviews kiyoh.com

EasyCollage

9.9

9.9

/

10

based on

208

reviews

Lovely collage. They had very easy to use and flexible software to create the collage, the best I have found on any website. Delivery was really quick and the company were extremely helpful with getting it out quickly for me. Thank you for a beautiful keep sake xx Read all reviews kiyoh.com

EasyCollage

9.9

9.9

/

10

based on

208

reviews

Amazing! Absolutely loved it, it was even better than I had imagined! We are using it at our wedding next week and the team pulled out all the stops, to get this printed and delivered to me in super quick time! Highly recommend Easy Collage! Read all reviews kiyoh.com

EasyCollage

9.9

9.9

/

10

based on

208

reviews

I had some wonderful artistic pictures that I wanted to put together and the collage was the perfect option and EasyCollage provided great and flexable templates to make it happen. Prompt delivery of a high quality product which I am really pleased with. Read all reviews kiyoh.com

EasyCollage

9.9

9.9

/

10

based on

208

reviews

FANTASTIC PRODUCT, I have 8 of these now and have also bought and given as gifts. The quality of the photos on th canvas is really good, even in the small pictures. The best place to make your collages with the most flexibility. Read all reviews kiyoh.com

EasyCollage

9.9

9.9

/

10

based on

208

reviews