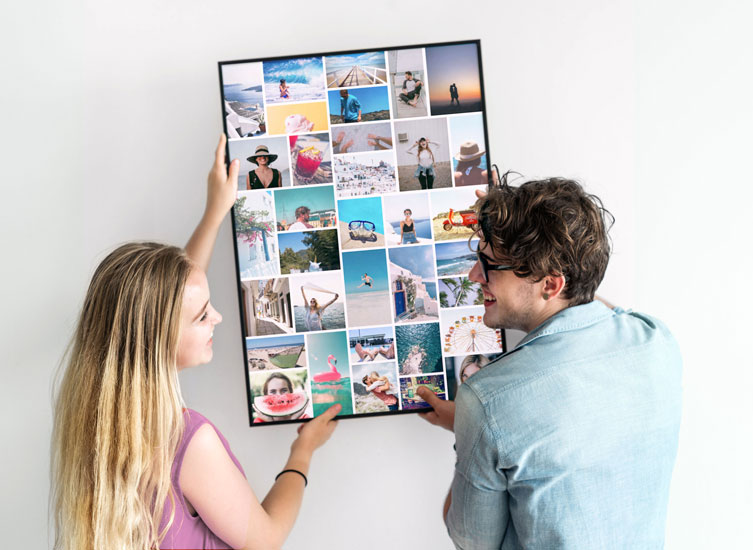 Holiday photo collage
Holiday pictures always make us smile!
Instead of keeping them hidden on your phone or computer, use them to make a beautiful photo collage for everyone to see.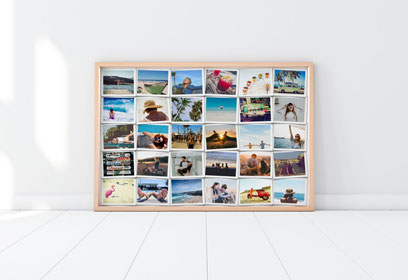 Holidays mean different things to different people. For some, they're all about rest and relaxation. For others, they're about spending time with friends and family. And for others still, they're about embracing adventure.
Whatever holidays mean to you, the photos you take during them are always perfect for creating a photo collage that will bring back fun memories. It might even help inspire your next incredible trip!
How to make a holiday photo collage
Start by collecting the most beautiful photos you have of your holiday. These can be images you've taken with your camera or snaps from your phone. When you've chosen your favourites, save them into a separate folder on your computer. Make sure to choose sharp, brightly-lit photos for the best result.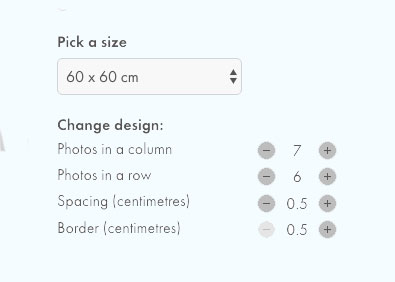 Next, choose a design in the collage maker, set the appropriate number of photos and place all the images wherever they look best. Do you have a lot of colourful photos? Then choosing a basic design is probably best so the collage doesn't look overly busy.
Are you photos a little less popping and a little more subtle? Then select one of our fancier designs to give your collage some flair. When you're happy with the way everything looks, click 'Order'.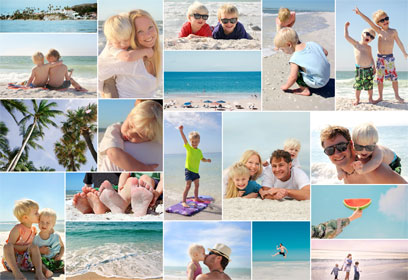 Extra tips
Try to use different types of photos to create variety in your collage. For example, think about using a mix of group people shots and scenic landscape shots with close-ups of beautiful flowers and special dishes you indulged in on holiday. Is your collage a little chaotic because it's made up of many different kinds of photos? Then make it more cohesive by choosing a colour theme or by making all the photos black and white.
Have you been on holiday with friends, family or in a group? Try asking your fellow travellers to send you their best photos so you can use them in your collage. You can easily do this by email or by using online file-sharing software. WeTransfer is great for sending a folder full of photos to multiple people at once. Or, you can create a folder in Dropbox and share it with multiple people so they can all add in the photos they took.
What our customers say about us
Stumbled across this site after a Google search and delighted I did. Very easy to create a collage, even for me with restricted IT capabilities. The poster came very promptly and exceeded my expectation as to how good it looked. Great service, great product. Read all reviews kiyoh.com

EasyCollage

9.9

9.9

/

10

based on

208

reviews

Lovely collage. They had very easy to use and flexible software to create the collage, the best I have found on any website. Delivery was really quick and the company were extremely helpful with getting it out quickly for me. Thank you for a beautiful keep sake xx Read all reviews kiyoh.com

EasyCollage

9.9

9.9

/

10

based on

208

reviews

Amazing! Absolutely loved it, it was even better than I had imagined! We are using it at our wedding next week and the team pulled out all the stops, to get this printed and delivered to me in super quick time! Highly recommend Easy Collage! Read all reviews kiyoh.com

EasyCollage

9.9

9.9

/

10

based on

208

reviews

I had some wonderful artistic pictures that I wanted to put together and the collage was the perfect option and EasyCollage provided great and flexable templates to make it happen. Prompt delivery of a high quality product which I am really pleased with. Read all reviews kiyoh.com

EasyCollage

9.9

9.9

/

10

based on

208

reviews

FANTASTIC PRODUCT, I have 8 of these now and have also bought and given as gifts. The quality of the photos on th canvas is really good, even in the small pictures. The best place to make your collages with the most flexibility. Read all reviews kiyoh.com

EasyCollage

9.9

9.9

/

10

based on

208

reviews