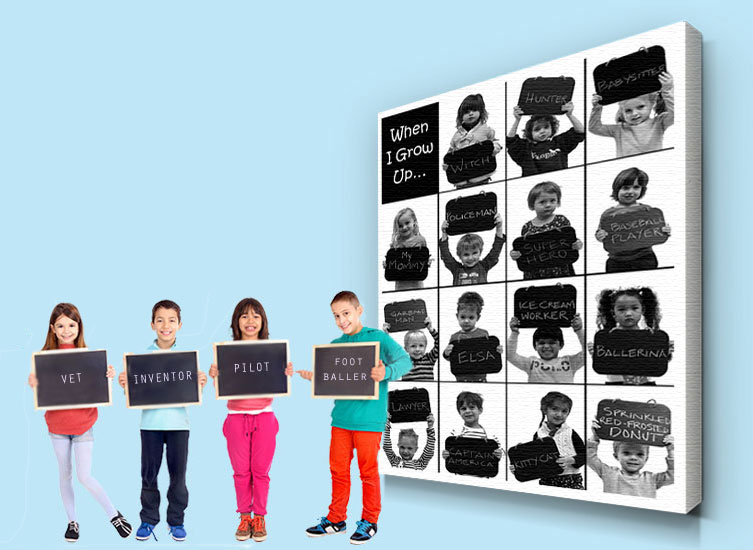 School class photo collage
Looking for a great gift to give to the class or teacher?
Make a creative collage with photos of the whole class!
The last few days of the school year are always special. Now that the summer holidays are almost here, it's time to say the inevitable goodbye to classmates, teachers and the head.
A beautiful collage with the whole class is the perfect momento of the school year and makes a wonderful parting gift for both the teacher and children.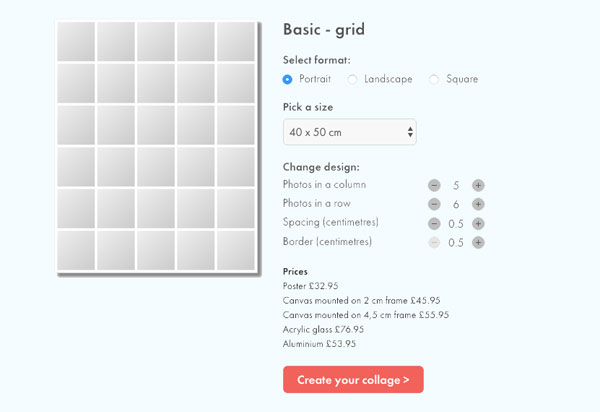 How to make a school photo collage
Go to our collage maker and choose one of the basic frames. Select the number of photos you want to use, based on the number of photos you've taken or collected.
You can use a spare box to give the collage a title or a theme, such as: "When I grow up ...". Move the photos in your collage around until you find the best combo.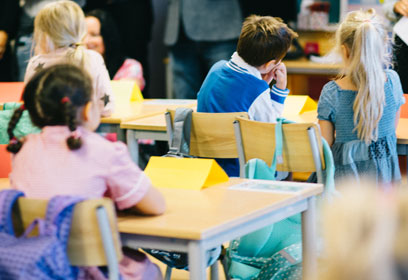 Extra tips
If you've collected all your photos but can't make them look good together, try editing them. This is an easy way to save your collage if the photos don't match or if one photographer zoomed in too much. You can edit your photos extensively using a programme like Photoshop. But if you only need to use a cropping tool, you can do all your editing in the Paint programme. There are plenty of free online editing tools, such as Photoshop Express and Gimp, that you can use to improve your photos, too.
Would you like to fill a box with text? The best way to do this is to create an image with text and then upload it into your photo collage. You can do this using one of the programs listed above or with various smartphone apps. Recite.com and Be Happy generator help you create beautiful pictures quickly and easily.
This photo collage is not only a great gift for the teacher, but also for the children themselves! If you'd like everyone to take home a wonderful momento of the school year, you can get one canvas for the teacher to put up in the classroom and several small posters for the children.
What our customers say about us
Stumbled across this site after a Google search and delighted I did. Very easy to create a collage, even for me with restricted IT capabilities. The poster came very promptly and exceeded my expectation as to how good it looked. Great service, great product. Read all reviews kiyoh.com

EasyCollage

9.9

9.9

/

10

based on

205

reviews

Lovely collage. They had very easy to use and flexible software to create the collage, the best I have found on any website. Delivery was really quick and the company were extremely helpful with getting it out quickly for me. Thank you for a beautiful keep sake xx Read all reviews kiyoh.com

EasyCollage

9.9

9.9

/

10

based on

205

reviews

Amazing! Absolutely loved it, it was even better than I had imagined! We are using it at our wedding next week and the team pulled out all the stops, to get this printed and delivered to me in super quick time! Highly recommend Easy Collage! Read all reviews kiyoh.com

EasyCollage

9.9

9.9

/

10

based on

205

reviews

I had some wonderful artistic pictures that I wanted to put together and the collage was the perfect option and EasyCollage provided great and flexable templates to make it happen. Prompt delivery of a high quality product which I am really pleased with. Read all reviews kiyoh.com

EasyCollage

9.9

9.9

/

10

based on

205

reviews

FANTASTIC PRODUCT, I have 8 of these now and have also bought and given as gifts. The quality of the photos on th canvas is really good, even in the small pictures. The best place to make your collages with the most flexibility. Read all reviews kiyoh.com

EasyCollage

9.9

9.9

/

10

based on

205

reviews