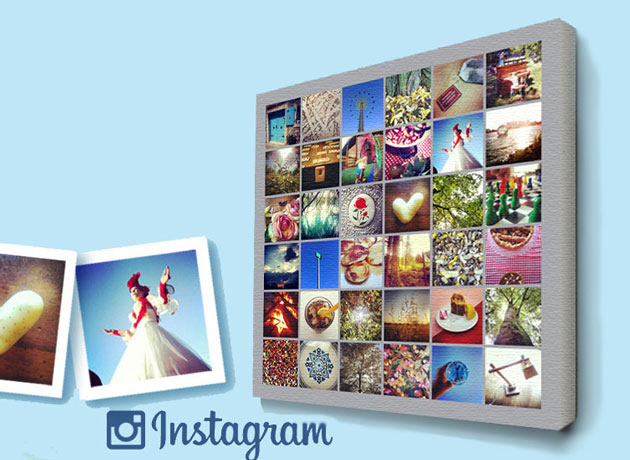 Instagram photo collage
Do you share your best photos and special moments on Instagram?
With just a few clicks you can easily showcase your best Instagram pictures in a beautiful photo collage!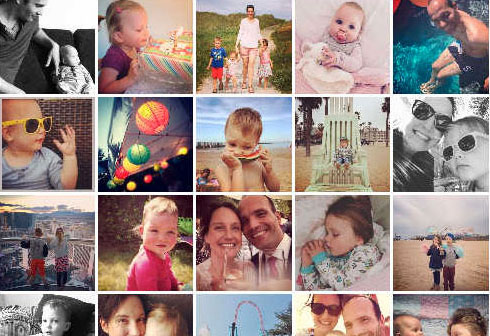 From holidays and birthdays to delicious dinners and beautiful sunsets - millions of people all over the world share their best moments on Instagram every day.
If you're an active Instagrammer and have a collection of stunning photos, why not turn them into a real life collage which you can have printed on canvas, poster or acrylic to hang on your wall at home?
How to make an Instagram photo collage
First select the Instagram photos you'd like to use. You can choose your photos according to a central theme or just pick your favourites which mean the most to you. Thanks to its beautiful filters, adding Instragram photos to a photo collage is an easy way to add instant style.
The smallest photo collage size available is 30cm x 30cm but you can create an Instagram photo collage as large as 100cm x 100cm, which you can fill with up to 144 of your favourite Instagram images.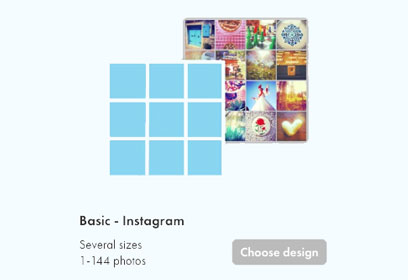 In the collage maker, select the Instagram Basic design and choose how many photos you want to include. Then set how much space you want in between each photo and the width of the blank space in between the photos and the edge of the collage.
From there, you can add your photos to the design and swap them about so each image is in the right place. You also have the option to adjust the background colour of the collage. Then simply click "Save" to save your collage for later or "Order" to have your collage printed and delivered to your door.
Extra tips
We've made it super easy for you to turn your favourite Instagram posts into a one-of-a-kind photo collage. All it takes is a few simple steps. Open the collage maker and choose a design which you can customise to your liking. Click on the photo area where you want to place a photo and select the tab 'Instagram' on the next screen. Log in to Instagram and all your Instagram photos will appear on the screen. Choose the pictures you want to use and place them in the photo areas to create your photo collage. Now all you have to do is have fun arranging all your favourite photos in your collage design and order.
What our customers say about us
Stumbled across this site after a Google search and delighted I did. Very easy to create a collage, even for me with restricted IT capabilities. The poster came very promptly and exceeded my expectation as to how good it looked. Great service, great product. Read all reviews kiyoh.com

EasyCollage

9.6

9.6

/

10

based on

171

reviews

Lovely collage. They had very easy to use and flexible software to create the collage, the best I have found on any website. Delivery was really quick and the company were extremely helpful with getting it out quickly for me. Thank you for a beautiful keep sake xx Read all reviews kiyoh.com

EasyCollage

9.6

9.6

/

10

based on

171

reviews

Amazing! Absolutely loved it, it was even better than I had imagined! We are using it at our wedding next week and the team pulled out all the stops, to get this printed and delivered to me in super quick time! Highly recommend Easy Collage! Read all reviews kiyoh.com

EasyCollage

9.6

9.6

/

10

based on

171

reviews

I had some wonderful artistic pictures that I wanted to put together and the collage was the perfect option and EasyCollage provided great and flexable templates to make it happen. Prompt delivery of a high quality product which I am really pleased with. Read all reviews kiyoh.com

EasyCollage

9.6

9.6

/

10

based on

171

reviews

FANTASTIC PRODUCT, I have 8 of these now and have also bought and given as gifts. The quality of the photos on th canvas is really good, even in the small pictures. The best place to make your collages with the most flexibility. Read all reviews kiyoh.com

EasyCollage

9.6

9.6

/

10

based on

171

reviews