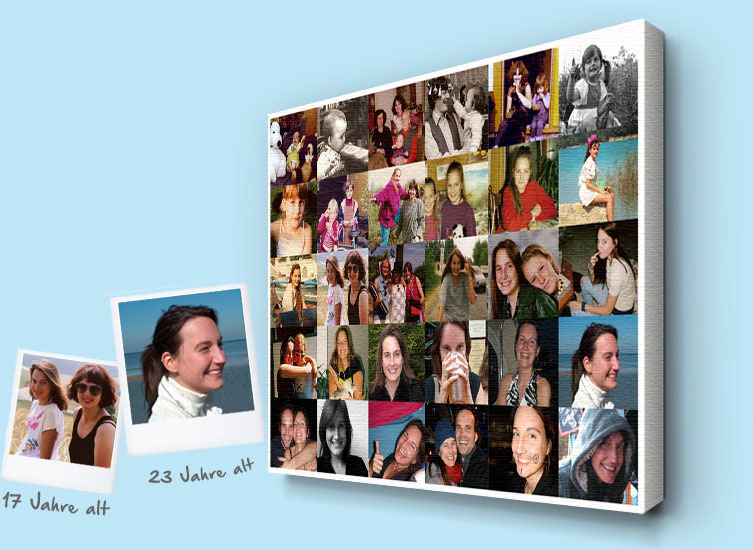 Life overview photo collage
Do you have a lot of pictures from the past up to the present day?
Make a stunning life overview in the form of a photo collage!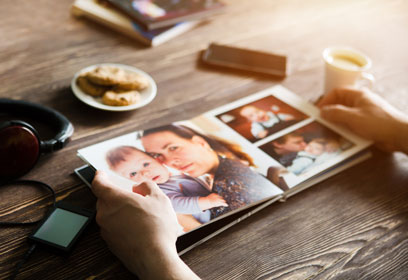 If you're on the lookout for a special and personal gift, this photo collage will fit the bill perfectly. As long as you've got enough pictures of the friend or family member in mind, you can create a beautiful collage which will spark their memories from years ago. You can choose to put the photos in chronological order, or place the images in a random order according to what looks best.
Of course, this photo collage doesn't just have to be for other people - you can also make one of your own life with pictures from your own past.
How to make a life overview photo collage
First choose the pictures you'd like to use. For best results, see if you've got one photo from each period in the person's life. To help make the photo choosing process easier, it's a good idea to create a dedicated folder on your computer where you can store all the photos you'll use for the collage in one place.
You don't just have to use digital photos in your collage - you can take photos from books or photo albums and scan them onto your computer or take a photo of them with a digital camera or mobile phone. If you don't have enough photos to make the collage, ask friends and family if they've got any photos you can use.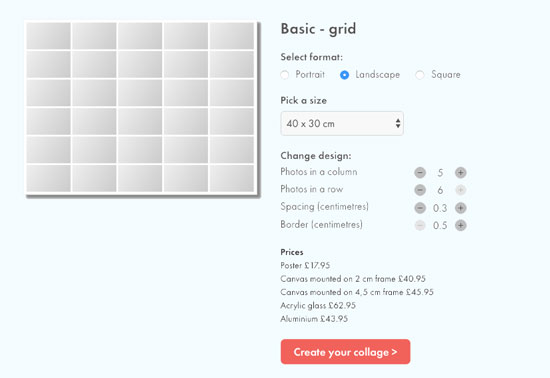 When you've collected all the photos you need, head to the collage maker and choose a design. For best results, select the basic design with a grid. You can then customise the design and select how many photos you want to include.
You can choose to place the photos in chronological order or let your imagination run wild and place them however you like.
Extra tips
If you're using old photos in your collage, there's a good chance you'll need to scan some of them. When you scan photos for a collage, you need to make sure you use a quality scanner and set the resolution to as high as possible. Always remember to scan in JPG format. Don't worry if you're unsure about the photo quality - our collage maker automatically checks the resolution of each image so make sure it's good enough to be printed.
What our customers say about us
Stumbled across this site after a Google search and delighted I did. Very easy to create a collage, even for me with restricted IT capabilities. The poster came very promptly and exceeded my expectation as to how good it looked. Great service, great product. Read all reviews kiyoh.com

EasyCollage

9.9

9.9

/

10

based on

208

reviews

Lovely collage. They had very easy to use and flexible software to create the collage, the best I have found on any website. Delivery was really quick and the company were extremely helpful with getting it out quickly for me. Thank you for a beautiful keep sake xx Read all reviews kiyoh.com

EasyCollage

9.9

9.9

/

10

based on

208

reviews

Amazing! Absolutely loved it, it was even better than I had imagined! We are using it at our wedding next week and the team pulled out all the stops, to get this printed and delivered to me in super quick time! Highly recommend Easy Collage! Read all reviews kiyoh.com

EasyCollage

9.9

9.9

/

10

based on

208

reviews

I had some wonderful artistic pictures that I wanted to put together and the collage was the perfect option and EasyCollage provided great and flexable templates to make it happen. Prompt delivery of a high quality product which I am really pleased with. Read all reviews kiyoh.com

EasyCollage

9.9

9.9

/

10

based on

208

reviews

FANTASTIC PRODUCT, I have 8 of these now and have also bought and given as gifts. The quality of the photos on th canvas is really good, even in the small pictures. The best place to make your collages with the most flexibility. Read all reviews kiyoh.com

EasyCollage

9.9

9.9

/

10

based on

208

reviews